David: One Boy. Two Faiths.
MOVIE NIGHT & DISCUSSION
with Joel Fendelman, Director/Producer
The movie, David, is set in the ethnic neighborhoods of South Brooklyn and tells the story of a 10-year old Muslim boy that befriends a group of Orthodox Jewish Boys who mistake him for being Jewish.
View the movie at any time from
Thursday, Feb. 25 – Sunday, Feb. 28.
**Below is the blue link for the movie.
Click on the link provided.
Once you access the Vimeo.com site, you will be prompted for a password. Our password is agudasachim.
**Here is the Zoom link for the Q & A/discussion on Sunday, February 28 at 4PM.
or cut and paste:
You will need Internet access to stream the movie and Zoom capability to participate in the discussion.
Have a question or two ready
for our guest speaker!
Keeping the faith throughout the COVID-19 crisis
Celebrate Shabbat with us
March 12, 2021  @ 7:30 pm
Congregation Agudas Achim will celebrate Shabbat via zoom on Friday, February 12, beginning at 7:00 p.m. for a social time and 7:30 p.m. for services. An oneg with music by Ira & Julia Levin will follow "downstairs".
For the link to our services and programs, please email: virtualshabbat@gmail.com.
-:-
New: Our e-newsletters are now on the website. Click here.
-:-
TOUR OUR HISTORIC SYNAGOGUE
https://synagogues360.bh.org.il/gallery/congregation-agudas-achim/
-:-
NOW YOU CAN PAY YOUR MEMBERSHIP DUES ONLINE
Welcome to Congregation Agudas Achim
We welcome you to our website. It is intended to be a source of information about Agudas Achim for members and visitors. We are a Reform congregation with a traditional soul located in the beautiful Catskill Mountains of New York. Agudas Achim means "gathering of brothers and sisters". It was named over 100 years ago and still applies.
Our members are diverse in their approaches to Judaism and geographic location
Our hope is to facilitate the spiritual and intellectual growth of our members. Rabbi Pomerantz challenges us to gain new insights into ourselves and our faith. Our Cantorial team of Ira and Julia Levin inspires us with both their spiritual and musical talents.
Agudas Achim provides all the essentials of a Jewish community. You will discover this by exploring the contents of the website. We are especially proud of the high quality learning experience we are able to provide our children because of our excellent and loving teachers. We conduct monthly Shabbat services on the first or second Friday. Special programming to enrich our community are conducted periodically. Please view our calendar for the dates of our specific events.
Our door is open wide to interfaith families and those who are searching regardless of background or belief. You are invited to visit our historic synagogue and experience our growing, friendly community.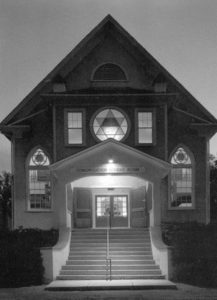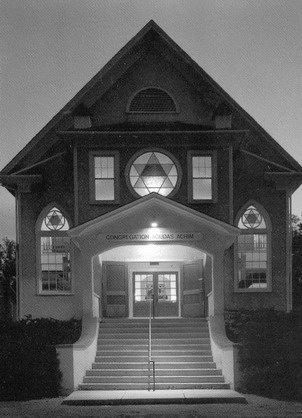 RECENTLY…. 
The Agudas Achim calendar is unlike any other as we celebrated Purim along with Shabbat on February 12.  Thanks to Rabbi Pomerantz and Ira & Julia Levin for giving us a Mardi Gras-dikke shabbos, and to Sarah Weber who helped the congregation join in the fun by sharing her screen.
Our Annual Meeting was held (with 16 zoom screens participating) on Sunday, January 17, 2021.  After an inspiring invocation by Rabbi Pomerantz, officers were re-elected to serve for another year and the budget for 2021 was presented, explained and passed.  President Judy Siegel thanked the Board and those who contributed to our successes in 2020.
Hanukkah, The Festival of Lights, began on December 10. For Jewish people, this holiday celebrates the victory of a small group of dedicated soldiers, the Maccabees, over a tyrant king and his armies, intent on suppressing their human rights and forcing them to worship Greek gods. The Maccabees were able to retake the Temple in Jerusalem from the king's soldiers but needed to find a way to reconsecrate the synagogue ruins by keeping a menorah (a seven-armed candelabra) lit constantly. They found a vessel that contained a small amount of oil with which to relight the menorah and although hopeful, they realized it would likely only burn for one night. The miracle was that it burned for eight nights.
Modern celebrations often include families deciding upon how to meet the Jewish mandate of "tikkun olam" or "repair the world" in the coming year, whether the decision is to help locally or globally in some way. Families will light a 9-candleholder candelabra called a hanukkiah. Gifts are usually exchanged amongst families and friends. It is also traditional to eat foods fried in oil, such as latkes (potato pancakes) and sufganiyot (Hebrew for jelly doughnuts) to celebrate the oil found in the Temple. Even though we won't be frying up latkes like we usually do in our social hall before in-person services, please enjoy some festive foods at home! Check out reformjudaism.org for fabulous Hanukkah recipes and more information about Hanukkah.
In order to minimize in-person contact, we asking those who wish to make a donation to our local food pantry to make a monetary donation instead of a donation of food. However large or small, your food dollars will help those families in our community who are in need.  Thank you.
Please add "FOOD PANTRY" to the additional notes on the donation form.
MAKE A FOOD PANTRY or ENDOWMENT FUND DONATION